<![if !vml]><![endif]>

The Infra-red Heating Specialists

<![if !vml]><![endif]>

Tel/Fax +44 (0)1159 37 27 27

Medium-wave Infra-red Patio Heaters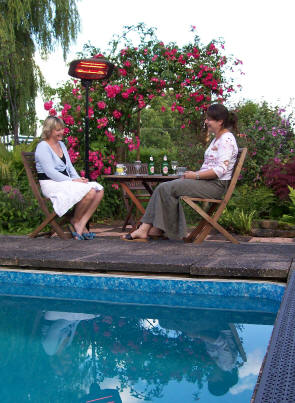 Portable and Wall Mounted Heating Solutions for the Patio and Conservatory
Extend the Spring, Summer and Autumn Evenings With One of Our Medium-wave Infra-red Heaters
Infra-red heating is ideal for a variety of outdoor and indoor applications providing a low-cost and economic form of heating.
Medium wavelength infra-red is less harsh than typical short-wave heaters and is ideal for situations where the heat source is close to people such as smaller patios or in conservatories
The elements have the ability to warm people or objects but not the air in between. This means that it is more efficient and energy saving because of the effective way the heat is transferred. The emitted heat is not affected by draughts because there is no wasteful heating of the air.
These safe and convenient heaters have just a minute of warm-up time and provide instant heat just when you want it.
---
Product Range
---
Portable Medium-wave Infra-red Patio Heater
Portable Infra-red Heating for the Patio and Conservatory

A highly efficient and versatile heater that warms people directly without having to heat the air in between.

Medium-wave infra-red is ideal for heating of localised areas especially where heating at closer proximity to people is required. It does not give a 'harsh' focused heat like that of short-wave infra-red heaters.

Medium-wave heating is safe and efficient with no wasteful heating of air so is not effected by draughts.

Dual Purpose! - The unit is waterproof and portable so it can be used outdoors in the summer and indoors in the winter
---
Wall Mounted Medium-wave Infra-red Heater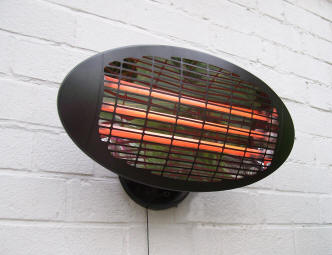 Wall Mounted Heating for the Patio and Conservatory
This 2kW infra-red heater warms people directly without heating the air in between.
Suitable for inside or out. Patios, Conservatories, garages, etc...

Safe clean and efficient

Three pull switch settings giving a third, two thirds and full power

Adjustable angle tilt head

Can be used indoors or outdoors (Waterproof to IPX4 for outdoor use)
---