Domestic Infra-red Heating | Commercial Infra-red Heating | Industrial Infra-red Heating | Home Page | Latest News | About Us | Contact Us

<![if !vml]><![endif]>

The Infra-red Heating Specialists

<![if !vml]><![endif]>

Tel/Fax +44 (0)1159 37 27 27

Case Study:
Infra-red Heating Attracts More Customers to Franco's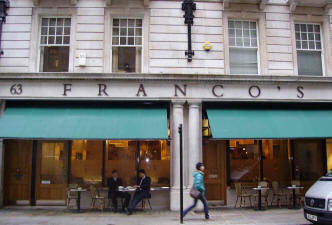 Franco's Restaurant and Bar lies in the prime location of Jermyn Street in London's SW1 district.

It was opened in 2005 after being re-styled and refitted to suit the modern city dweller
Franco's has a large pavement area with covered seating to accommodate people who want to eat or drink outside.

Apart from the summer months these areas were rarely used because of the cool weather conditions and, as a consequence, passing trade was being lost.
By installing a series of powerful but economical 3kW radiant infra-red heaters, specified and supplied by Leisure Heating Ltd, the pavement area can now be used to accommodate customers all year round.

The use of energy efficient Infra-red heating has allowed Franco's to increase their business in an area that would normally remain empty for most of the year.

Efficient and economical h

eating outdoor areas means that existing facilities can be maximised and profits boosted. In addition, the smoking laws that came into place in June 2007 mean that smoking is not permitted in indoor areas. The new heated area in front of Franco's caters for those customers who still wish to smoke.
Electric Infra-red Heating
Infra-red heating is based on the transfer of thermal energy by electromagnetic radiation.

Infra-red emitters are classified according to the temperature dependent peak wavelength which they emit and can be short-wave, medium-wave and long-wave.
Short-wave infra-red heaters have the ability to heat people directly without having to heat up the air first. They are compact, energy efficient and easily installed.
The element used has a thermal response similar to an electric light bulb so is instant.

Infra-red heaters can be easily used with PIR movement detectors or with power controllers.
Domestic Infra-red Heating | Commercial Infra-red Heating | Industrial Infra-red Heating | Home Page | Latest News | About Us | Contact Us