<![if !vml]><![endif]>

The Infra-red Heating Specialists

<![if !vml]><![endif]>

Tel/Fax +44 (0)1159 37 27 27

News - 2013
Click on the appropriate button to view the latest news from Leisure Heating and Heat Infra-red Ltd
Our New Address
Due to the expansion of our business we have moved to new and larger premises
Our new address is:
6 Advance Workshops, Debdale Lane, Keyworth
Nottinghamshire. NG12 5HN
---
Domestic and Commercial Infra-red Heating News
---
Leisure Heating Ltd Supply Heating for the O2 Arena

Heating for the O2 Olympic Venue 2012

Leisure Heating have supplied almost 300kW of infra-red heating for one of the 2012 Olympic venues in London. The O2 Arena hosted some of the Badminton events and because of the nature of the game, hot air cannot be used as it effects the movement of the shuttlecock whilst a match is being played.

After discussions with Leisure Heating, the use of a number of 4.5kW heaters were agreed. These heaters represent an efficient way of heating a large area without creating large amounts of airflow. For more information on this and similar installations, please call us on 0115 937 2727.

---

Updated Designs of Infra-red Pendant Heaters for Garden Rooms and Gazebos

Made in Great Britain

Be aware that there are some Chinese copies of our Pendant Heaters on the market in the UK at the moment. If you suspect that you are being sold a heater that is NOT made in Great Britain, please call us. All OUR heaters are fully guaranteed from defects for a full year INCLUDING the elements. Spares are readily available direct and you get full personal after sale service on any product you buy from us.

New Infra-red Pendant Heaters Now Available


An updated range of Leisure Heating Pendant Heaters are now available. These are designed by Leisure heating and made in England. Models range from 1.5kW heaters for small structures up to 6kW heaters with integral light for the larger buildings

Beware of Chinese copies!! If in doubt please phone our help line on 0115 937 2727
---
We now accept Paypal as a payment method for website transactions

If you wish to pay from your Paypal account simply purchase your products from our on line shop www.leisureheating.co.uk and check out in the normal manner. Simply select the Paypal option from the menu of payment methods. Its as simple as that!
---
Please Visit Us at BBC Gardeners World Live 2013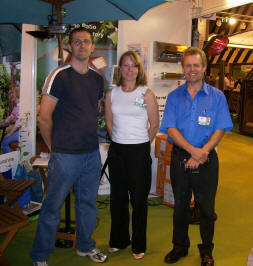 Gardeners World Live is one of the biggest events in the gardening year.
A big thanks to everyone who came to see us at this year's show. We are back this year so please come and see our latest range of Leisure Heating and Leisure Gardening products.
Visit our sister site

---
Industrial Infra-red Heating News
---
Industrial Process heating Modules

Our Range of Modular Infra-red Heating Units Continues to Expand

Medium-wave Industrial Infra-red Process Heating Modules

Constructed in robust stainless steel, these versatile infra-red heaters can be used for many industrial applications including drying and curing of water-based coatings, curing of silicone, pre-heating metals and rapid curing of powder coatings.

Two Power Ratings Available

Available as 12kW and 24kW modules.

Can be used in conjunction with one of our infra-red controllers giving 0 - 100% burst fire control of the medium-wave heating elements.

Made in Great Britain

For more information please call 0115 937 2727.
---
Heat Infra-red Consultancy Service
Heat Infra-red Ltd offers a professional consultancy service to anyone who needs advice or technical help.
We already act as consultants for a number of large, medium and small businesses in the UK and provide a broad range of technical services.
Our consultancy service has helped a number of businesses throughout the years whilst our manufacturing service has installed energy efficient infra-red process heaters ranging 1kW to 750kW heaters! For more information please call 0115 937 2727.
---
Selco and Pearlco Type Electric Heating Elements
Leisure Heating can offer equivalent versions of most 'Pearlco' type ceramic infra-red emitters including most wattages in the full-sized and half-sized curved ceramic emitter range. These elements are traditionally used in many applications ranging from thermo-forming machines to Chip Shop range heaters. Please visit visit www.leisureheating.co.uk or call our office for more details
In 2007 Leisure Heating Ltd acquired the assets of Selco Heating Elements from Harrison Distribution. The "Selco" silica infra red and ceramic element products including domestic, catering and industrial spares are now supplied by Leisure Heating Ltd
Elements and catering products continue to be manufactured in the United Kingdom and all sales and enquiries are now dealt with via the Leisure Heating office
Leisure Heating Ltd has a wealth of expertise in the infra-red element manufacturing arena as well as offering traditional domestic and commercial heating expertise and consultancy in industrial infra-red process heating and control. The acquisition of Selco is a natural progression of our business. We specialise in infra-red heating equipment for the industrial, commercial and domestic markets and have expanded our existing manufacture of infra-red heating elements to include all the Selco range. We continue to offer the level of service that customers have come to expect from Selco.
---
Ian Lewin
For many years, Ian Lewin served as part of the Technical Sales and Development team at East Midlands Electricity and PowerGen's 'Technology Demonstration Centre' in Nottingham. In 2004 he moved on to further develop his particular field of expertise in electric infra-red heating technology. Ian is now an established member of the Leisure Heating and Heat Infra-red advisory team.
He can be contacted on 01159 37 27 27 or email ianlewin@heatinfrared.co.uk
---
---