<![if !vml]><![endif]>

The Infra-red Heating Specialists

<![if !vml]><![endif]>

Tel/Fax +44 (0)1159 37 27 27

The HL Range of Commercial Infra-red Heaters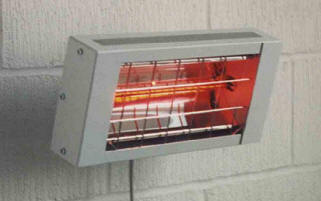 Cost Effective Energy Efficient Radiant Heating
Our HL Range includes a 1.5kW, 3kW and 4.5kW version fitted with a gold lamp which creates a warm glow just where you need it. For areas where there are low ceiling or for more confined work areas we have a range of HL heaters fitted with ceramic elements.
The HL Radiant Heater is very easy to install, virtually maintenance free and costs as little as eleven pence* an hour to run.
*Based on electricity price of 7p/kWh for the 1.5kW version
Infra-red heaters represent a highly efficient, economical way of warming people directly without heating the air.
They are ideal for creating instant heat when and where you want it, creating a comfortable environment for your workforce.
Applications
Infra-red radiant heaters are ideal for many applications including:
Offices Factories Workshops Reception areas Warehouses Stores Commercial garages Conservatories Agricultural buildings Hangars Churches Temporary heating
Benefits
The many benefits that can be enjoyed by using Infra-red radiant heaters include:
Fast thermal response similar to a light bulb, providing instant heat (quartz elements only)

Controllable via movement detectors if necessary.

The radiant infra-red heats people directly without the need to heat up large amounts of air.

Simple, energy efficient and flexible.

Reduces energy costs.
Buy on-line www.leisureheating.co.uk