<![if !vml]><![endif]>

The Infra-red Heating Specialists

<![if !vml]><![endif]>

Tel/Fax +44 (0)1159 37 27 27

Mobile Infra-red and Hot-air Heating
The Mobile Range of Infrared and Hot-air Heaters

There are two ways of heating a space:

Infra-red direct heating

hot-air fan heating.

Either way, our range of heaters will give you a perfect solution.

The Rhino TQ3 is a very versatile 2.8kW mobile radiant heater housing two 1.4kW infra-red emitters which have the ability to heat your workers directly without having to first heat the air.

Our range of fan heaters represent a more traditional approach of heating and heat the air within the building whilst creating a gentle airflow.
---
Product Range
---
Mobile Infra-red Heaters
The Rhino Thermoquartz3

The TQ3 is a very versatile 2.8kW mobile radiant heater. It houses two 1.4kW infra-red emitters which can be switched individually from the integral control at the rear of the heater. It has a sturdy handle and can be easily moved to where the heat is needed using the built-in rear wheels

This heater represents a highly efficient, economical way of warming people directly without the need to heat the air first.

The Rhino TQ3 is available in 230v or 110v versions

Replacement lamps are readily available. See our spare lamps page
Benefits

Very fast thermal response similar to a light bulb, providing instant heat.

The radiant infra-red heats people directly without the need to heat up large amounts of air.

Individual elements can be selected with separate switches.

Simple, extremely energy efficient and flexible.

Fully mobile- can be pushed on its wheels to where the heat is required.

Simply plugs into a 13A domestic socket (230v version)

Safe – tilt mechanism automatically switches off the heater if it is knocked over.

Reduces energy costs.

---
The Rhino Junior

The Rhino Junior utilises a slightly different infra-red heating technique. The two ceramic emitters radiate at 'long wave' infra-red, giving a more gentle over-all heating effect. The effect is dramatic and is ideal for localised heating. The emitters give off no visible light making the product ideal for offices, shops and where industrial finishing is taking place.

The maximum output of the Rhino Junior heater is an impressive 3kW and can be turned to half power at the click of a switch.

This heater represents a highly efficient, economical way of warming people directly without the need to heat the air first.

Benefits

The radiant infra-red heats people directly without the need to heat up large amounts of air.

Individual elements can be selected with separate switches.

Simple, extremely energy efficient and flexible.

Fully mobile- can easily be moved to where the heat is required.

3m of cable fitted and Simply plugs into a 13A domestic socket. (230v version)

Reduces energy costs.

Very long element life of up to 25,000 hours

Replacement ceramic elements are readily available. See our spare elements page
---
Mobile Fan Heaters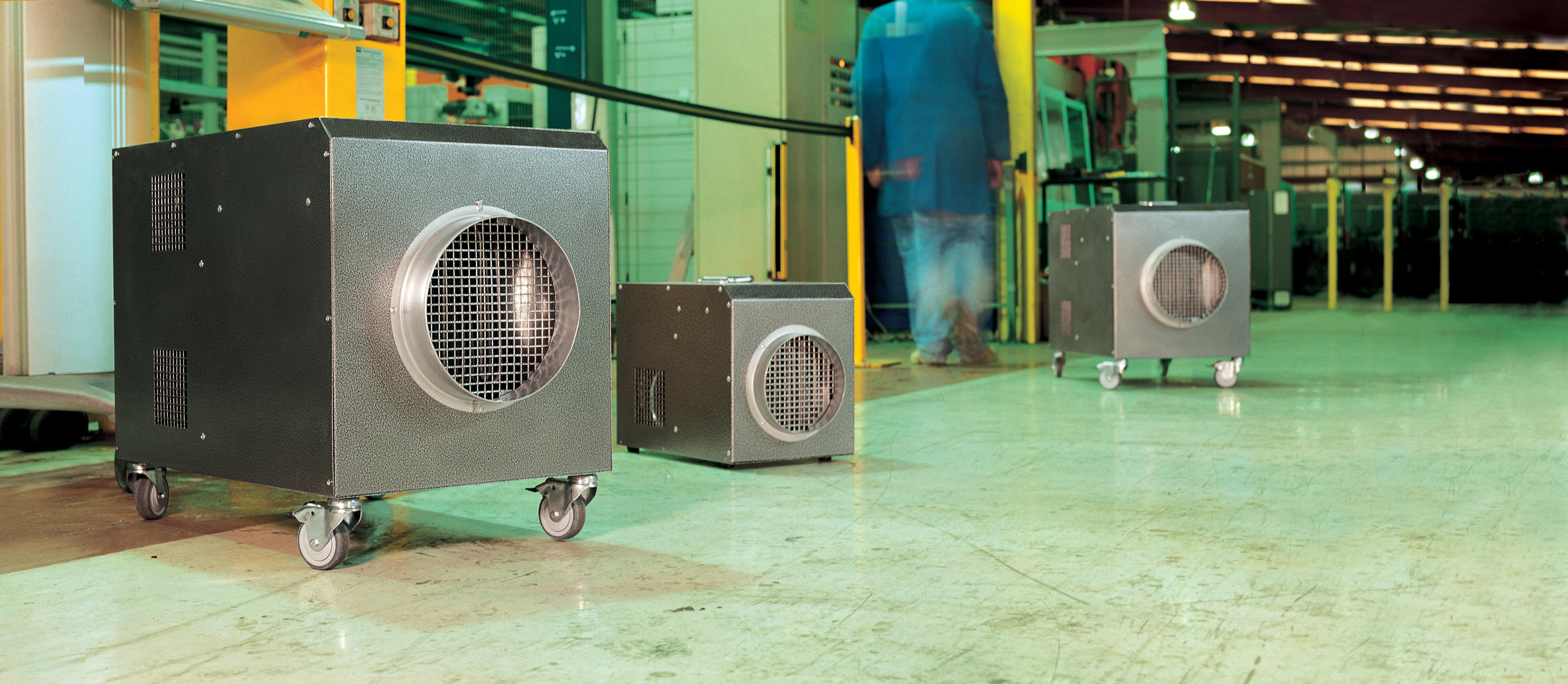 Single Phase Fan Heaters
Dimplex 3kW Fan Heater

The Dimplex 3kW fan heater has high efficiency incolloy elements delivering over 430 cubic metres of heated air per hour.

If you need to heat the whole space rather than individual workstations then this is ideal. Simply plug in to a conventional 13A socket and switch it on. There are two heat setting: half power and full power as well as a temperature thermostat

Quiet running
Steel construction
Ideal for temporary heating
Adjustable temperature setting
Carry handle
2m lead and 13A plug

Model may vary from that shown
---
3kW Commercial Fan Heater

This 3kW Fan Heater is a high output hot air blower. The high efficiency incolloy elements deliver 430 cubic metres of heated air per hour.

If you need to heat the whole space rather than individual workstations then this is ideal.

Simply plug it in and switch it on. There are three setting: fan only, half power and full power as well as a temperature thermostat

Quiet running
All steel construction
Ideal for temporary heating
Adjustable temperature setting
13A Industrial plug fitted

Model may vary depending on stock

Specifications & Technical Data

240v 3kw industrial/commercial heater

2 heat settings 1500W / 3000W

Adjustable thermostat

Dimensions 250mm x 250mm x 410mm

Net weight 5.6kg

Handy carry handle

No fumes odours or humidity

Motor with thermal protection

Overheat thermostat

Robust metal case and grill

IPx4 approval

RoHS Compliant
---
Three Phase Fan Heaters
The Rhino FH13 Fan Heater

The Rhino FH13 is designed to deliver large volumes of heat from its highly efficient incolloy elements. The FH13's tough steel construction means that it can withstand the rigours of site conditions.

As the FH13 is fully stackable, units can be stored with ease.

Specifications & Technical Data

Heating element 13kW

Weight 22Kg
---
The Rhino FH18 Fan Heater

The Rhino FH18 is designed to deliver large volumes of heat from its highly efficient incolloy elements. The FH18's tough steel construction means that it can withstand the rigours of site conditions. The unit features switching to give 9kW half heat, 18kW full & a fan only setting.

As the FH18 is fully stackable, units can be stored with ease.

Specifications & Technical Data

Voltage 415V~ (3 Phase)

Current 26A

Dimensions 520 x 400 x 570mm (L x W x H)

Heating element 18kW & 9KW half heat

Weight 36Kg

Key Features & Benefits
---
Applications
Mobile heaters are ideal for many applications including:
Offices Reception areas Factories Stores Commercial Workshops Garages Agricultural buildings Churches
---
Buy on-line at www.leisureheating.co.uk or phone 0115 937 2727 to order
| | | |
| --- | --- | --- |
| We exhibit at many shows More information> | | We offer many payment methods More information> |
| | | |